TRIATHLON MONTELIMAR 2021 EQUIPE DE 4
Online registration




Secured payment by credit card with our partner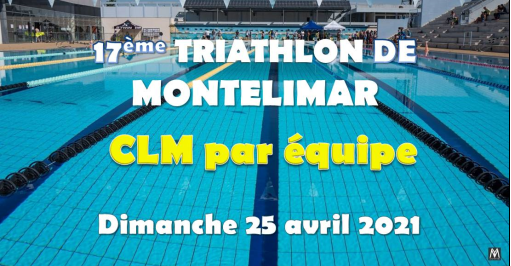 Event organised by MONTELIMAR TRIATHLON,
on April 25, 2021

Online registration active until April 23, 2021 at midnight
L'engagement au triathlon CLM par équipe de Montélimar se fait par équipe de 3, 4 ou 5. Ce formulaire permet l'engagement d'une équipe de 3 coureurs. Pour les équipes de 4 ou 5, utilisez le formulaire prévu à cet effet.
L'engagement à l'épreuve implique l'adhésion aux règlements de la FFTRI disponible sur le site de la ligue AURA. Le capitaine de l'équipe s'inscrit en tant qu'équipier 1. En validant l'engagement, il certifie que l'ensemble de son équipe a pris connaissance des instructions et règlement de cette épreuve et s'engage à les respecter sans réserve.
Registration form
Please type here your personnal information, and choose the registration options corresponding to your case. Once all the form fields are filled, click the button Validate your registration, which will activate the secured online paiement. You can validate many individual registrations at once.
Evénement annulé !
Compte tenu des conditions réglementaires actuelles liées à la situation sanitaire, l'épreuve ne pourra malheureusement pas avoir lieu en 2021.

The registrations online are now closed for this event.