Courir Pour La Paix 2021
Online registration




Secured payment by credit card with our partner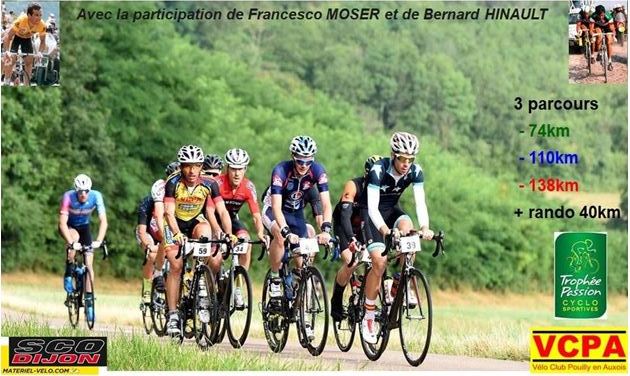 Event organised by SCODijon,
on July 31, 2021

Online registration active until July 29, 2021 at 23:55:00
 Courir Pour La Paix (Côte d'Or)
Saturday 29th july 2017

Courir Pour La Paix is a special event in cyclosportive calendar, because over the cycling race, the event celebrates the memory of atomic bumbs victims and help victims of japanese tsunami on 11th march 2011.
Bernard HINAULT and Francesco MOSER will ride as usual.

3 cycling races :
- Hiroshima : 145km / elevation gain : 1590m
- Nagasaki : 105km / elevation gain : 1115m
- Tohoku : 81km / elevation gain : 845m

Recreational biking circuit in Auxois land : 40km

Numbered bibs release at Chailly-sur-Armançon castle (21)
- friday 29th july from 2h30 pm untille 8h pm
- saturday 30th july from 6h30 am untill 8h20 am

Departure from Chailly-sur-Armançon castle
- Hiroshima race at 8h40 am
- Nagasaki race at 8h50 am
- Tohoku race at 9h am
- Recreationnal biking circuit at 9h10 am

Arrival at Chailly-sur-Armançon castle


Lunch at golf of Chailly-sur-Armançon castle


Award ceremony at Chailly-sur-Armançon castle at 3h30 pm
"Courir Pour La Paix" website : 
http://courirpourlapaix.blogg.org/
Warning :
 in order to save time during numbered bibs
release, the host recommends to load licence or medical certificates during
registration. Else the documents will be given during numbered bibs.
Registration form
Please type here your personnal information, and choose the registration options corresponding to your case. Once all the form fields are filled, click the button Validate your registration, which will activate the secured online paiement. You can validate many individual registrations at once.
The registrations online are now closed for this event.