Corrida L'Hivernale Bellerive sur Allier (03)
Online registration




Secured payment by credit card with our partner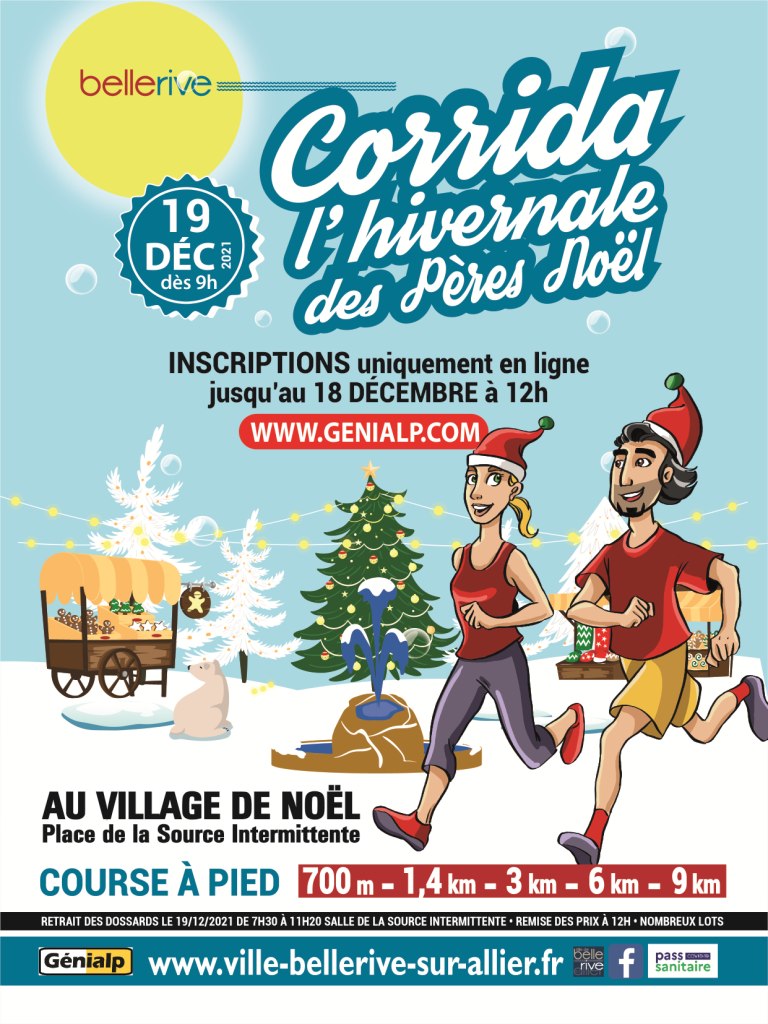 Event organised by Mairie de Bellerive sur Allier (03),
on December 19, 2021

Online registration active until December 18, 2021 at 12:00:00
Corrida "L'Hivernale des Pères Noël 2021"
Bellerive sur Allier (Allier 03)
Dimanche 19 décembre 2021
3 Courses : 9 Km, 6 Km, 3km

     2 courses jeunes U10 (700m) U12 (1,4 km)
Pas d'engagement sur place

Retrait des dossards de 7h30 à  08h45 pour le 9km
Retrait des dossards de 08h45 à  10h20 pour le 6km et 3 km
Retrait des dossards de 10h20 à  11h20 pour le 1,4 et 0,7 km
sur le site de départ/arrivée au coeur du Village de Noël salle de la source intermittente.
DEPARTS DES COURSES

09h00 : départ 9 Kms (16 ans et plus)
10H35: départ 6 kms (16 ans et plus)

10H35: départ 3 kms (12 à 15 ans)

11H35: départ 0,7 & 1,4 km (7 à 11 ans)
REMISE DES RECOMPENSES
A 10h15 pour le 9 km, 12h00 pour le 3 et 6 km, au "Village de Noël". Collation offerte à chaque participant dès l'arrivée de chaque course
Détail  récompenses : Pour chaque course : 3 premières féminines et les 3 premiers masculins.

Les engagements en ligne sont ouverts avec la possibilité de télécharger votre certificat médical ou copie de votre licence.(après avoir scanné ces documents)
Avertissement : l'organisateur de cet événement demande le téléchargement d'une copie de la licence ou du certificat médical (avec la mention " de  non contre-indication à la pratique de la course à pieds en compétition" ) pour chaque inscription.
A défaut, la présentation du document justificatif  pourra se faire sur place.
Registration form
Please type here your personnal information, and choose the registration options corresponding to your case. Once all the form fields are filled, click the button Validate your registration, which will activate the secured online paiement. You can validate many individual registrations at once.
The registrations online are now closed for this event.